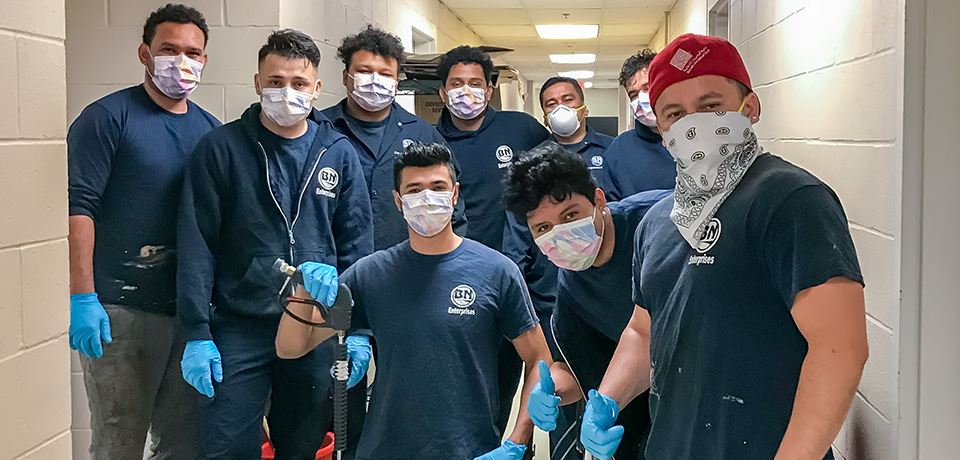 Baltimore Commercial Kitchen Cleaning & Restaurant Fire Suppression Services
Providing Exceptional Commercial Kitchen Cleaning & Restaurant Fire Suppression Services in Baltimore, MD
At BN Commercial Cleaning and Fire Protection, we take pride in providing a diverse range of services for commercial kitchen cleaning and restaurant fire suppression in Baltimore and its surrounding areas communities. Whether you need a deep clean for your commercial kitchen, regular cleaning services for your food truck, or assistance with your kitchen hood suppression system, our experienced team is here to help you.
For more information about our commercial kitchen cleaning and restaurant fire suppression services in Baltimore, or to request a free consultation, call (301) 889-9268 or connect with us online. We are always here to help!
Baltimore Commercial Kitchen Cleaning Services
We completely understand how cleanliness directly impacts the success of your business. Maintaining a visually appealing space can significantly enhance your guests' experience. Moreover, ensuring a hygienic kitchen is crucial for the well-being of your employees and customers, as it helps prevent grease fires and other potential hazards.
Whether you need dependable experts for regular deep cleaning to keep your kitchen spotless, have concerns about upcoming health inspections, or require assistance in preparing for a special event, you can count on us. Our team is here to make sure your kitchen is in top shape, so you can focus on running your business.
Commercial kitchen cleaning services we provide in Baltimore include the following:
Grease Containment Systems
Pollution Control Unit Cleaning
Kitchen Equipment Cleaning
Ceiling Cleaning & Restoration
Restaurant Kitchen Cleaning
Kitchen Surface Cleaning
Kitchen Hood Cleaning
Food Truck Cleaning
Baltimore Restaurant Fire Suppression Services
Our comprehensive restaurant fire suppression system and fire extinguisher services include yearly inspections, recharge services, hydro testing, and even parts replacements. If your fire extinguishers are in poor condition, we can provide you with new ones. We also take utmost care of your hood suppression system and offer top-notch cleaning services to ensure the safety of your kitchen and establishment.
Our licensed and insured technicians are here to assist you every step of the way. Feel free to reach out to us for all your restaurant's fire safety needs. We've got you covered!
The Benefits of Choosing BN Commercial Cleaning and Fire Protection
Our highly skilled kitchen cleaning crew is fully equipped to handle almost any project, regardless of its size. We pride ourselves on our exceptional reputation for providing reliable and top-notch commercial cleaning services.
In fact, we were even trusted by Gordon Ramsay's team to restore three flood-damaged restaurants. We also took on the challenge of meticulously hand-cleaning SubCom ships under strict deadlines. Furthermore, we successfully completed a historical preservation project that involved the thorough and delicate cleaning of a historic site in Baltimore.
These examples highlight just a few of the diverse commercial cleaning projects we have accomplished throughout the years. Rest assured, with our experience and expertise, we are more than capable of tackling nearly any commercial cleaning task.
Aside from our stellar track record, other benefits of choosing BN Commercial Cleaning and Fire Protection include the following:
More Than Three Decades of Experience
Eco-Friendly Options
We Offer Free Consultations
We've Successfully Served Thousands of Clients
We're a Member of the NFPA
Want to learn more about BN Commercial Cleaning and Fire Protection? Check out our customers' reviews, our case studies, and our past projects.
To request a free consultation or schedule an appointment for our commercial kitchen cleaning or restaurant fire suppression service providers in Annapolis, MD, call us at (301) 889-9268. You can also get in touch with us online. Don't wait, contact us today and let us take care of your commercial cleaning and fire suppression needs.
Don't Take Our Word for It
See what our clients have to say about our completed work.
"Outstanding communication and best cleanliness of our kitchen hood! My manager came in to open our kitchen and had a clean hood . The company before would leave a mess for us to clean up. Thank you BN Commercial Cleaning!"

- Cindy M.

"The service was great they work above and beyond .. 101% recommended."

- Ray Ann D.

"These guys did a great job. They cleaned up after themselves they respected my facility and it was much appreciated."

- Thomas L.