Ceiling Cleaning & Restoration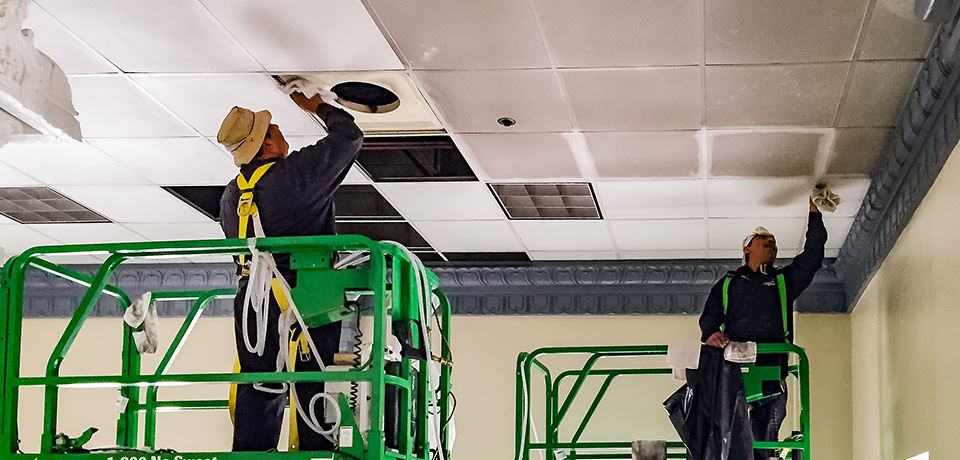 Make Your Facility Look Brand New
Ceiling Cleaning & Restoration in Washington, D.C., Maryland & Virginia
At BN Commercial Cleaning and Fire Protection, we can tackle any commercial kitchen service to ensure the highest quality clean. We are backed by more than thirty years in the industry and use a mixture of 20 proprietary solutions from Ceiling Pro International (CPI), the leader among ceiling restoration companies. This mixture reacts with dirty areas to remove soil without damaging the surface of the ceiling or walls.
Our Washington, D.C. kitchen cleaning experts offer high-quality, detailed cleaning for:
Awnings
Ceiling tiles
Ducts
Facades
Chandeliers
Open metal beams
And more!
There's nothing quite like a hand-wipe shine! With our heavy-duty, eco-friendly products, we offer cleaning services that leave no damage, no lasting odors, and no mess. Buildup and stains are no match for us. Find out how we can make your kitchen ceiling free of bacteria, grease, oil, and smoke.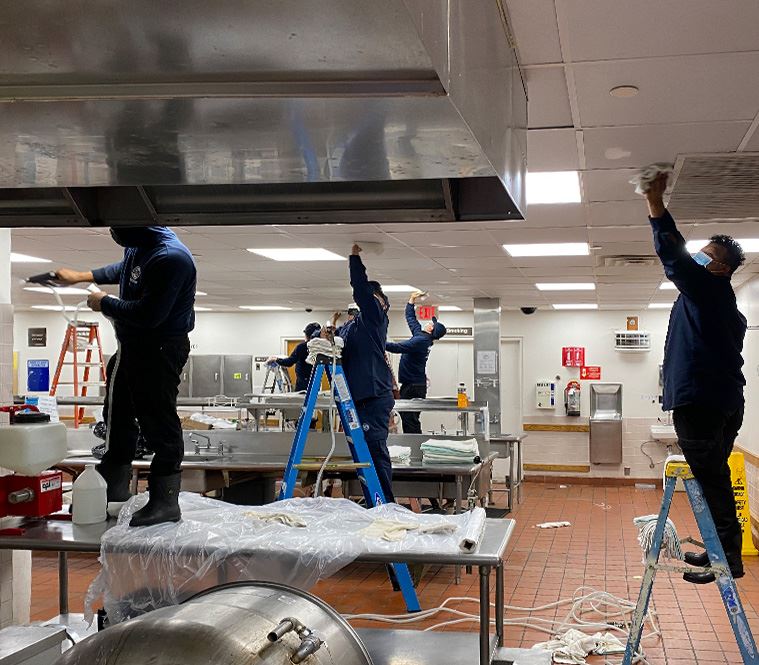 Kitchen Ceiling Cleaning Service
Commercial Kitchen Cleaners in Baltimore
As much as we know a dingy ceiling is unpleasant to look at, it can do much more than make for a drab scene. A dirty ceiling can lower the indoor air quality of your kitchen and even create fire risks. Accordingly, if the grime and fumes really build up, the state of your ceiling could negatively impact your next health inspection. However, even if your ceiling has looked desperately grimy for a long time, you probably don't need to replace your ceiling. You may just need an eco-friendly deep clean to restore your kitchen.
Whether you need a straightforward vacuuming and wiping down of ceiling tiles, or you need a more thorough deep clean, we can restore your kitchen ceiling to look like new. We know how to handle any cleaning challenge for virtually any ceiling. Whether we're dealing with vinyl, stone, and cement, or acoustic tiles, bagged insulation, or stainless steel, we have the expertise, equipment, and materials for the job at hand. When we're done cleaning and restoring your kitchen ceiling, it won't just look good—though we will make your ceilings shine—but we will also purge smoky odors and other smells from the ceiling. Let's make your dirty ceiling a thing of distant memory and help you enjoy a kitchen ceiling that looks restored.
Call (301) 889-9268 to find out more, starting with a free consultation. Our Washington, D.C. kitchen cleaning and fire prevention experts are ready to help you.